This article has been reviewed by certified personal trainer Carrie Tredwin-Rolinger scientifically and practically.
You've always seen a personal trainer, whether on TV or at the gym. You may also see a virtual trainer on different social networking sites. The point is they are always smiling, which implies that they are so content in social life. Moreover, a personal trainer induces you to smile in personal training sessions.
You might be wondering if they are pleased. The answer is a yes. They are delighted as they have career aspirations. Weren't they happy, they couldn't work for all these years. Career happiness is visible in their real life.
But the issue is not just their happiness. They have personal goals, including the client's fitness goals and their personal goals as an experienced trainer. They have an awesome career helping the clients have a healthy lifestyle. This article aims to discuss what makes a personal trainer happy. There are plenty of reasons, so stay with us and find out why.
---
The Concept Of Personal Training
A personal trainer is the one who helps clients learn how to do the workouts perfectly. Preventing injury through movement is one of the most critical things that an experienced personal trainer does.
They also help clients achieve their goals. They are by the clients' side all along. On this path, both the clients and trainers help. Consequently, the trainees can ultimately get what they long for.
Fitness instructors have qualifications such as athletic certifications. They specialize in a specific field or maybe in several areas in the fitness industry. As a result, they can train the clients in the best way.
Apart from certifications, they try to identify with the clients and deal with the trainees' desires and fears. In this way, what the clients want is fulfilled.
When trainees reach their aim, trainers feel thrilled. That's why they never want to quit their careers.
---
Following The Duty As A Personal Trainer
You cannot sit back thinking the trainees have learned the workout. As a fantastic trainer, you should instruct the activities properly so that they can use equipment without getting injured. You should check every movement your trainees make to lower the risk of injuries; you should help clients fulfill their dreams.
First, if your trainers are amateur, you should give them basic exercises they are capable of doing. Gradually, they'll get the hang of the movements and can do more challenging ones.
Also, it would be best if you were supportive all along the way. The plan you provide them with should match their goals and physical needs. You need to be aware of their weaknesses and work on areas they need to strengthen. Finally, you might want to keep track of their improvements and check whether or not they are moving forward.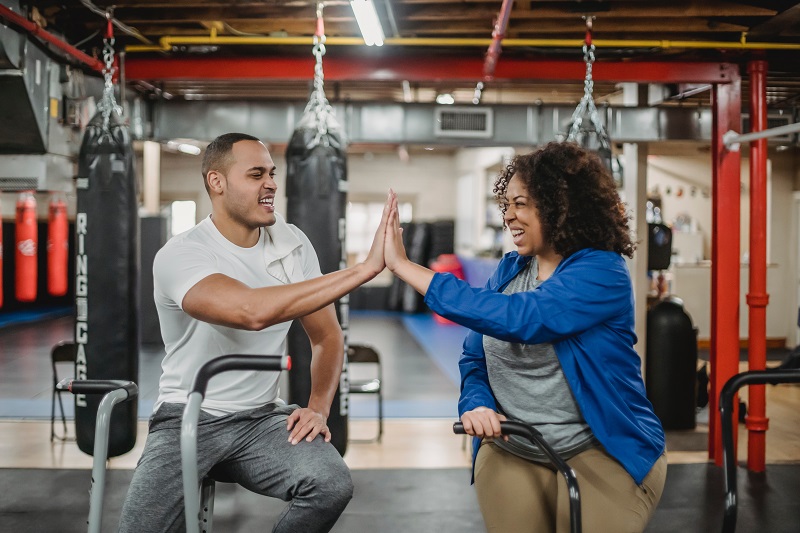 ---
Their Personality Is In Line With Their Career
Mostly, that's what most trainers are cut out for. They choose this career since it's well suited to activities they do on a regular basis. There are very few trainers who might not find this job fascinating.
When your job is what you have tried for, you'll move forward. You're satisfied with your career, and that's why you find it joyful.
They love their jobs so much that they can't get through the day without exercising or training clients. You see their smiling eyes while coaching, and they'll never get tired of doing that. Yes! It's a perfect career fit!
---
The Joy Of Being A Coach
As said above, personal trainers are happy. They also have an active lifestyle. Besides, they have a healthy lifestyle. All of these have happened as a result of their career in fitness. We are going to talk about their career aspirations in detail.
---
1. They Choose Their Working Hours
Being an independent
trainer, you can choose your working hours. You are flexible. Consequently, you can set up your private training or online training whenever you feel like it. So, if you are a night owl and not a morning person, you can easily choose to set your client sessions in the afternoon or evening.
On the contrary, if you are an early bird, you can set your training sessions in the morning.
The thing is, if you prefer daytime or evenings, your schedule might be a bit limited. It's not one of the boundaries in life, though. We should mention that, in this case, you'll be more appealing to your clients.
Therefore, they'll try to book sessions with you in advance. They might even want to have additional sessions with you.
---
2. They Choose How Much Income They Want
As a fitness professional, you'll choose how much money to make in the fitness industry. The more training sessions you have, the more income you'll receive. You can have more clients and, as a result, more money. Or, you can simply charge your clients more. In this case, you work less but earn more. All these, for sure, come for an accomplished trainer who knows their stuff.
Of course, when you work as a fantastic trainer, you play the role of a life coach. So, you need to bear in mind that teaching is not a job but a vocation. Therefore, money shouldn't be your priority. You can make a noticeable amount of money in this field, though.
There comes a celebrity trainer who is rolling in money as they train celebrities. They are usually fantastic trainers who are highly accomplished, and that's why they make a lot of money.
A personal or online trainer does their best to become an expert in their field and have an advanced fitness background. As a result, they have a lot of income and are satisfied with their salary since the average fitness salary is not low.
---
3. They Are In A Perfect Environment
The gym is like your house, and you feel all comfortable in it. Time flies there, and you don't even feel it. Whether you're at the gym or a fitness studio, you'll love it. Even ordinary people find it relaxing when they go to the gym to exercise.
You might be an online trainer. Again, you feel relaxed as you're in your place. As a result, you'll find it comfortable.
More importantly, you become happy when you find yourself in a place where you can exercise with ease of mind.
---
4. They Choose To Be Busy Or Not
You choose whether or not to be a busy bee. When many clients schedule training sessions, you can cancel or give away some sessions. Just remember that you shouldn't cancel whenever you feel like it or at the eleventh hour. It'll ruin your reputation if you do so.
On the other hand, you might not have enough trainees, which will make you bored. Plus, you can't make enough money then. In this case, you can pick up more workout sessions as a trainer.
---
5. They Choose The Clients They Want
Some individuals are a real pain! Whatever it is, you cannot stand them at all. In this case, You don't have to train them. It is entirely up to you whether to accept the clients or not.
Some personal trainers want to establish a client base and satisfy their clients while they can't get on well with those trainees. In this case, think twice. If you think you can handle the situation, accept those clients as well.
---
6. They Choose Vacation Freely
As we said above, you have a flexible athletic career as a fitness instructor. You can choose when to go on vacation. Mainly, people cannot select leaves whenever they want.
Just remember to ensure that your clients won't lose any sessions. You should fix a session with your trainees as soon as you're back. Therefore, they know that you're an accountable person. Moreover, you won't lose your reputation.
---
7. They Will Become An Expert
As a fitness instructor, you need to specialize in a specific type of training. In this way, you can stand out from the crowd. Even if you don't go for expertise, you'll automatically become an expert since you're in this field. If you want to build up a considerable reputation and attract many clients, it's a good idea to be highly accomplished. Once you gain more in this field, you'll feel much happier and more powerful.
---
8. They Make Big Changes
One of the chief reasons a personal trainer goes for this career is that they want to influence their clients. As an independent trainer, you're with them all along the journey. Actually, you're the one who helps them reach where they want. This makes the trainer happy as they are an inspiration for their trainees.
You set a batch of sessions with your trainees. As an experienced trainer, you are there to prevent injury through movement, such as a hip injury.
All in all, you make them happy. Also, you will become satisfied. So, these factors are the other side of career aspirations.
---
9. They Learn From Their Peers
In this career, you'll have a lot of interactions with your co-workers. You can learn from their experiences and transfer them what you know.
Also, they can get a significant deal of information on different types of workouts and how to instruct them in the best way. Moreover, you can discuss the best ways to train individuals.
All in all, you'll feel much happier when you know more details about your job, clients, and colleagues' experiences since you can help and guide your clients in a better way.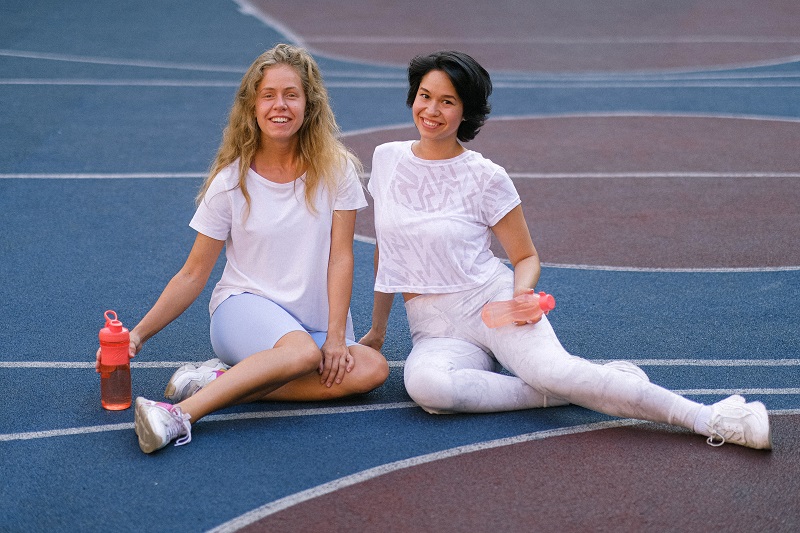 ---
The Challenges Of Being A Personal Trainer
Mainly, being a personal trainer is so beneficial. They interact with many clients and help them achieve their fitness goals by following a specific body routine applicable to the client's body. The thing is, it can be challenging at times. We have already talked about some challenges in major boundaries between personal trainer and client. Apart from those factors mentioned in the article, there are more challenges we are going to talk about. Here is another list of challenges they face with;
Tough clients; It's challenging to deal with some people. They might misbehave or might be nerve-wracking.
Lack of job security; Insurance coverage is a must, which most trainers lack.
Injuries; Both trainers and trainers might get hurt during workouts. It will get in the way of progress when it comes to trainees. If any minor injuries happen to trainers, it might stop them from exercising forever or for quite a while.
Fatigue; Personal trainers might have back-to-back sessions, which makes them tired.
---
Sum-up
Honestly speaking, personal training is a challenging thing to do. It is amongst the happiest careers, though. It's a difficult thing to do, though.
It's because they can choose when they are off. Also, in this job, they are in a relaxing environment. Apart from that, they are flexible and can decide how much to earn.
Plus, you meet different people with different characteristics. Each of them is like a book. Therefore, you can learn something from every single client.
Above all, they can help thousands of clients achieve their goals, which gives them this sense of achievement. It also allows you as a trainer as you learn a lot from people and try to improve yourself.
Finally, They'll become an expert in a particular field. All these items make it an awesome career.
---
FAQs